Webflow Conference 2022: Wrapped.
Insights
January 27, 2023
After two years Webflow Conference was back in person, and what an event - we left with our brains full of information and our bellies full of falafel.
After two years Webflow Conference was back in person, and what an event - we left with our brains full of information and our bellies full of falafel.
We jumped on a plane in YEG last week, leaving -20ºc behind and saying "Hello!" to beautiful 15ºc San Francisco – the weather was a dream and the excitement was brimming. Our first morning, in desperate need of a coffee, we ambled down to the lobby where we ran into some familiar faces (who, at the time, were complete strangers in real life). And although we were coming from France, Seattle, LA and Edmonton, our connection to Webflow really brought us together and within minutes we were fast friends, squishing into an extra-small Uber XL (we're not joking about this one – we were a designer sandwich in the back of that SUV).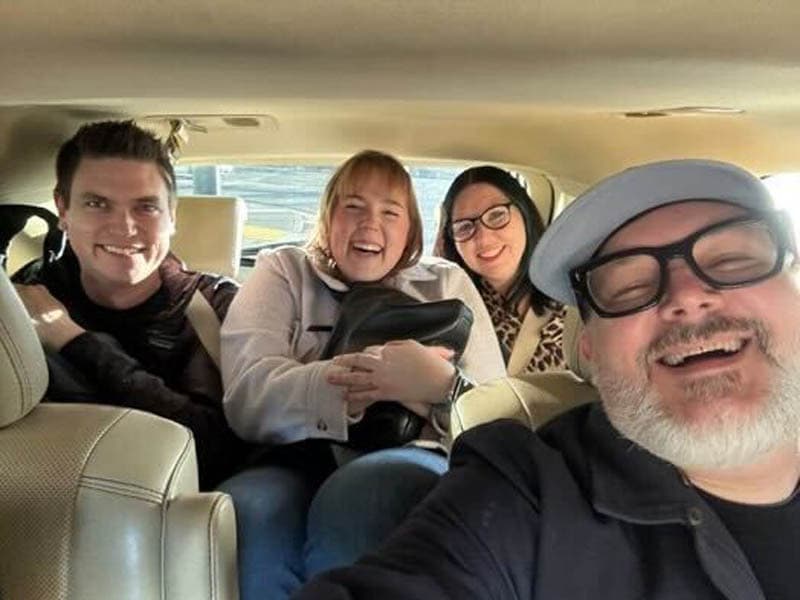 The Conference
Swag. Speed-build challenges. Food. Brain-explosions. (Yes, it really had all of those.)
Seamless check-in experiences with custom pronoun stickers to the live talks – everything was incredibly streamlined and well organized: the two days flew by. Overall, our impression was that this was a conference made for the Webflow community; you could tell everyone from freelancers to the CEO of Webflow was there to uplift and inspire each other.
The energy in the air was bristling with excitement when we entered the keynote: the stage lit, the chairs filled and the futuristic stage background animation bouncing away. Webflow conference had begun! Everything planned made us feel like we were a part of something momentous: with all the incredible announcements, community-centred programming, and inclusivity in the space (including audio descriptions and awareness of dietary needs) we knew the Webflow team had the community in mind while planning.
A big highlight was the Speed Build Challenge Semi-Finals and Finals. Contestants competed to design a randomly generated prompt and build it in Webflow - including interactions. It was incredible to see what they came up with in such a short amount of time – we're seriously considering adding this to our repertoire of creativity boosters and also Yomi is 100% considering competing next year!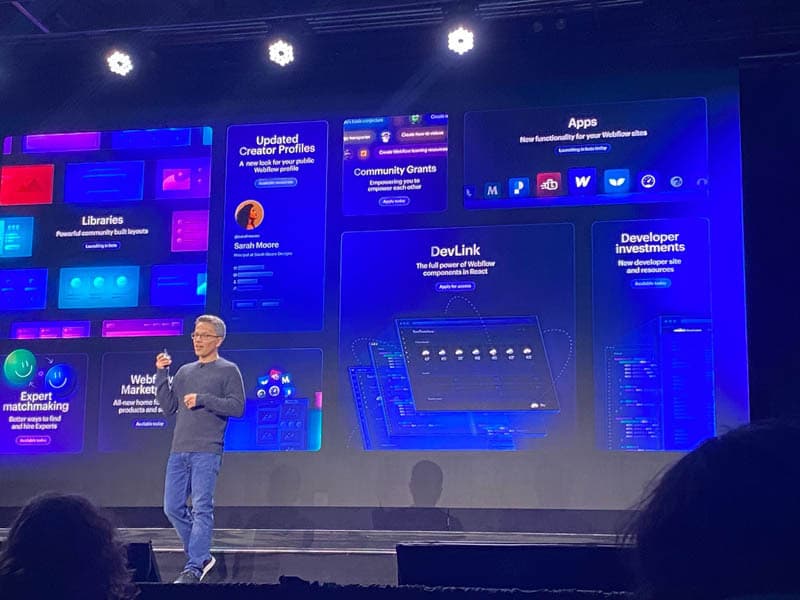 New Features
We were thoroughly impressed - and maybe a little awe-struck - with all the shiny new things released during the conference, not to mention the amount of talent in one room. Webflow has really levelled up its game when it comes to technology advancements, community initiatives, and innovation, which will give the community a space to explore and create incredible websites.
Some of the features we think are going to make a huge difference are:
Variable fonts - aka superpowers: This was by far the feature attendees were most excited about; loading one font in instead of five makes sites so much faster! And, it can also be animated (you can't see it yet, but it's going to be so cool.)

Symbols are now Components:  No more duplicate items across sites with extra classes and styles – now we can create sections once and reuse them across the whole site. With the ability to override text and styles, the whole site is easier and faster to create!

CMS and E-commerce:  Webflow is increasing database limits for enterprise clients, and e-commerce is increasing to 15,000 items so sites can keep scaling.

Memberships: Now that this is in public beta, we can access features that allow us to create membership platforms with up to 20,000 users.

Agency or Freelancer Guest Seats with site-specific access: Companies can soon own their workspaces and invite us as guest designers after their site launches (for free!). They will have complete control over their own billing, user accounts, and hosting. There's also more control over who can access which site so you get the right eyes on the right content.

Multi-language: The long-awaited multi-language feature is soon to be native in Webflow. Sites can be tailored to the target region and you can still use 3rd party translation services like Weglot!

Page Branching: Imagine multiple people working on the same page at the same time with merged changes. What a dream. Gone are the days of taking turns, and waiting forever to get into pages to make updates.
Final Thoughts
At the end of the live AMA (Ask Me Anything) talk, Vlad, the co-founder of Webflow, asked the audience "what makes the Webflow community so unique?" This is a question we both haven't stopped thinking about since.
We've come to the conclusion that at the heart of it, it's really about inclusivity. Regardless of your industry - from teaching to prop development - you're welcomed and accepted. It's knowing that everything you contribute helps others further their careers and their passions. People in this community understand the value of different backgrounds and different perspectives. From community forums to the Webflow university, every single member of the Webflow community is 100% on board with elevating each other.
Over the past 10 years, Webflow has quickly accelerated in the no-code space and has become an industry disrupter. As an agency, we're always looking for easier and quicker ways to get sites live for our clients. Once we started using Webflow, we never looked back. With a great user interface for developing designs and easy content entry from the editor, using Webflow at Lift was a no-brainer. We're so excited about all the upcoming features, and can't wait to put them to good use for our clients – let's make some Webflow magic!
‍
Author(s)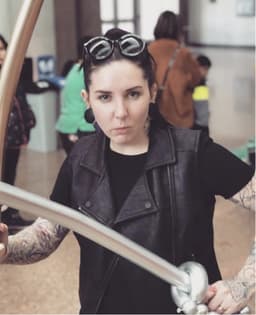 Yomi Jordan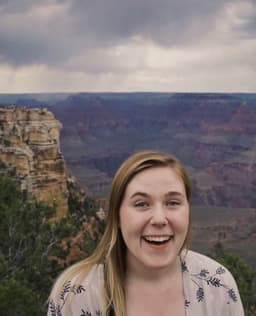 Corinna Thompson