Lift Stands Apart from the Competition in 3 Categories: Creativity, Digital Design, and Branding
Awards
July 3, 2019
Our team of designers, strategists, and technologists have been delivering amazing projects since 2002. These recent awards are a testament of that.
Our team of designers, strategists, and technologists have been delivering amazing projects since 2002. One of the hallmarks of our work history is a long list of happy clients—we've been fortunate to have had the opportunity to work with great people, organizations, and startups on ideas of all shapes and sizes.
Over the years, our list of services has grown along with our team. Our specialties include brand identity development, user experience design, web development, digital strategy, and marketing. With a passion for excellence, we aim to take client vision and story into real-life, amazing products and designs.
Recent reviews from clients suggest that it's not all in our heads. With Clutch.co, a B2B ratings and review site, Lift has an average score of 4.8 out of 5. Lift is among the top creative agencies in the world!
We view our clients as partners in the work that we do and we always help them achieve success. We rely a lot on word of mouth for our business development and Clutch has opened up so many new avenues by exposing more people to our past projects and client successes. - Micah Slavens, Principal, Lift Interactive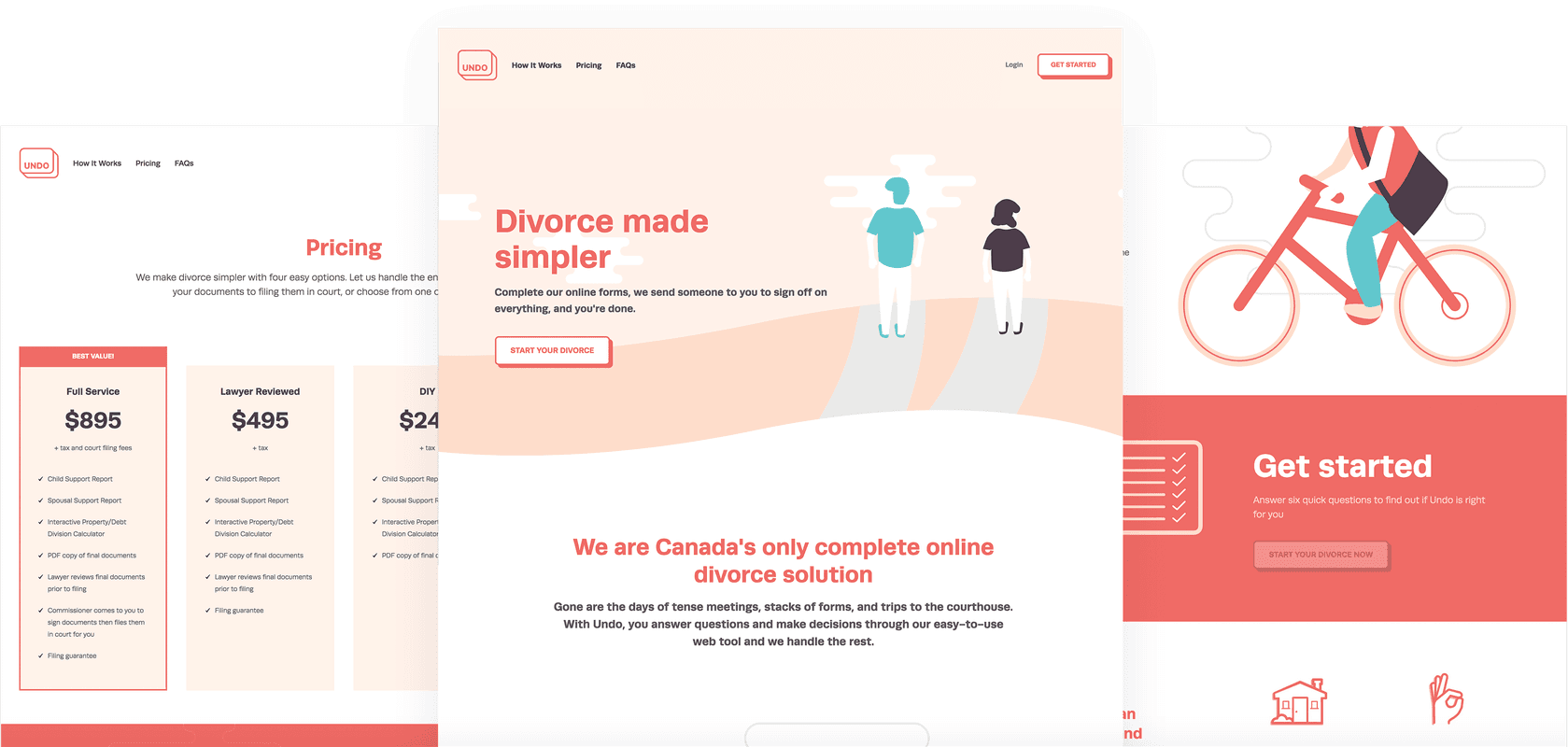 Undo, a site for processing uncontested divorces (currently operating in Canada), is one recent client who had something to say about our services. With work that ranged from naming and branding to web development and marketing, they're familiar with many of our services.
The branding work was outstanding, and everyone loves it. They had excellent workmanship and good customer service.

Another exciting project, becoming public soon, involved brand and visual identity development for a startup venture in the architecture space. While we're continuing to work on the project, we're always pleased to see feedback like this:
"Lift Interactive Inc.'s deliverables were outstanding and on point. We can't wait to share their work with the world."
We feel exactly the same way and eagerly anticipate sharing the results.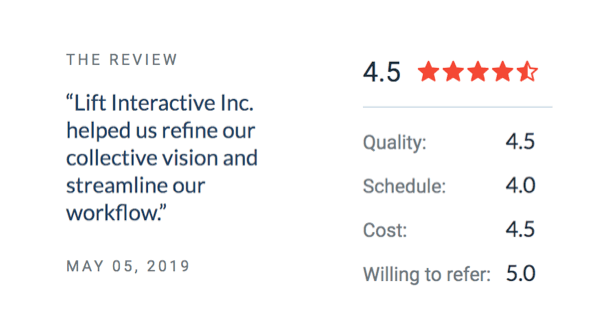 There are more reviews of Lift on Clutch. Also, Lift has been featured on their sister site, The Manifest, which has named us as one of the top digital design agencies in Canada.
You can also find some of our work on Visual Objects, a portfolio site for visual and creative design firms, where Lift is listed as a top branding agency in Canada.
A big thank you to our clients, both recent and going back to the early 2000s when it all started for us. To read more of our case studies or learn more about our services, stop by our website. Ready to start your project? Send us an email with the details to get going.