We are super excited to be recognized by the Advertising Club of Edmonton's annual ACE Awards in 6 categories.
On March 19th, we were super excited to be recognized by the Advertising Club of Edmonton's annual ACE Awards in 6 categories.
2016 was an amazing, hectic, and fulfilling year. We're proud of all of the work we did, but these projects in particular gave us the opportunity to push ourselves creatively and strategically.
We can't thank our brave and curious clients enough for exploring new ways to engage with their audiences. Great work comes from great collaboration. These wins belong to you, too!
ACE Craft Award - Design  +  ACE Award - Logo/Wordmark
Grandin Fish 'n' Chips
A fish & chips joint in the prairies? It shouldn't make sense. But once you step inside Grandin's doors, you'll realize it's juuust right. Fun, tattoo-style custom illustration, beautiful typography, and a vibrant visual system brought their laidback philosophy to life.
We were beyond stoked that the project received the top honour for logo/wordmark as well as the craft award for best overall design.
ACE Award - Website
Astronauts Wanted
Masters of the now, Astronauts Wanted needed to evolve their image online and better reflect who they are as a company. Our goal was to create a unique experience that attracted digital influencers: fun, bold, glitchy, rapid (and lots of it!).
We brought it all together with video backgrounds, quirky transitions, subtle animations and youthful, energetic photography. The main focus of the site is the robust portfolio, split into their main focus areas: series, film, branded and incubator. See it live here.
‍

Award of Distinction - Logo/Wordmark
Story Engine
The two classic, but quirky gentlemen behind Story Engine use their journalistic approach to uncover the root of an organization's purpose (their 'Master Story') and give them the tools to share it.
To communicate their own unique story, we designed a simple but interweaving 'SE' monogram paired with Tiempos from our friends at New Zealand's Klim Typography. To balance the sophisticated feel with unexpected energy,  we chose an oversaturated superhero blue and red.
Award of Distinction - Not-for-Profit Campaign
Fringe Theatre Adventures
The Fringe is an iconic local theatre festival here in Edmonton. For its 35th year, we evolved their recognizable brand, built a campaign site, and used social media to engage visitors online and on the grounds.
We started by asking: How do festival-goers recognize the Fringe? The iconic jester immediately came to mind. After 104 hand-drawn letters & 8 different versions of joker smiles, we had the new look. The updated brand could be felt throughout the grounds, bringing a cohesive vibe to the festival.

Award of Distinction - Other Video Creative
Lululemon Edmonton
As part of "Appreciation Nation," the Edmonton Lululemon branch wanted to thank their community. We crafted a love letter and filmed prominent Edmontonians alongside our winter city's most iconic places.
Lululemon Edmonton's Facebook page has a large reach, so it was a natural place to promote this video, which now has over 100,000 views. To maximize shareability, we focused on a positive and pro-local message and used a style that would have high impact even if viewed without sound. Check it out here.
Author(s)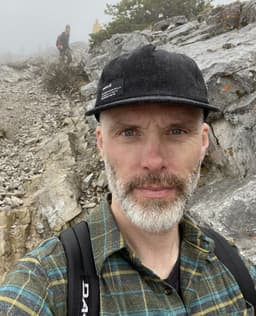 Micah Slavens
Micah has been working on the web since 1999. In 2002, he co-founded Lift Interactive. Since then, he's lead hundreds of successful projects for non-profits, technology start-ups, destinations, and attractions.